<- Back to 2XOD.com
Tank Bot for Lets Robot
V3 robot obtained a gripper

The robot can unflip itself using the camera tilt servo:
Photos
V5 the weak 3d printed camera braket broke after a few days of abuse by random internet drivers

V5 the new aluminum bracket uses a proper ball bearing so should last a while

V4 top - 2x 5v regulator for RC Battery Style 2

V4 underside - Battery "Style 2" - 78Wh / 2x 5,200mah RC Batteries in Parallel

V3 underside - Battery "Style 1" - USB 99 Wh / 26,800 mAh battery

V3 battery pack connections

I bought another RavPower battery pack, but it did not work the same and it did not stay powered on. The over current protection circuit cut off the power output.
So I broke open the battery pack and rewired it from an 8P setup to 4P2S to provide 7.4v just like the RC battery setup.
V5 Custom Battery "Style 3" - 99 Wh / 26,800 mAh 18650 4P2S battery

V3 gripper with neoprene pads

Battery Style Runtime Comparison

Style 1 - USB Battery
26,800 mAh @ 5v = 99.2 Wh
15 Hours 12 Minutes

Style 2 - 2x RC Car Batteries
2x 5200 mAh @ 7.4v = 77.6 Wh
11 Hours 29 Minutes

V2 got everything screwed in

V2 top close up

V2 Components

The LED headlights are connected via a 100 ohm resistor and NPN transistor. This connects to the 3v power rail on the raspberry pi and a GPIO pin for control.
V2 Underside Single Battery Config

V1 was pretty rough

V1 had had night vision for a bit

Scissors were fun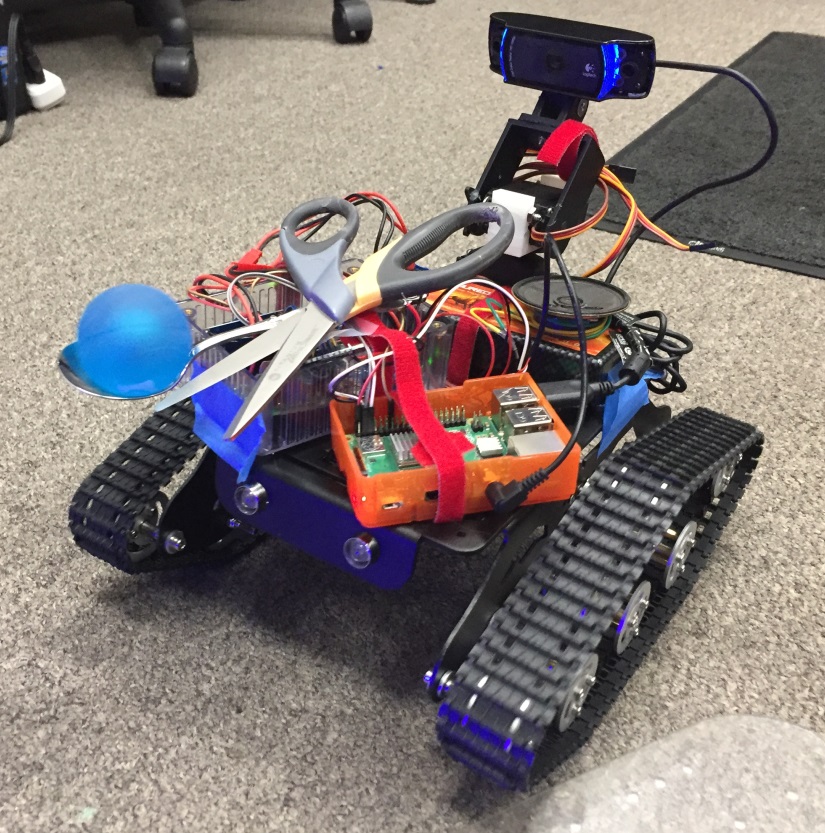 Controls on Lets Robot

Parts List
Total Cost ~ $334
Misc Parts
3 watt Speaker pulled from an old pair of computer speakers
Wires, Cable Shink Tube, Headers, Resistors, Bare PCBs
Page Revision History
2018-11-30 Published